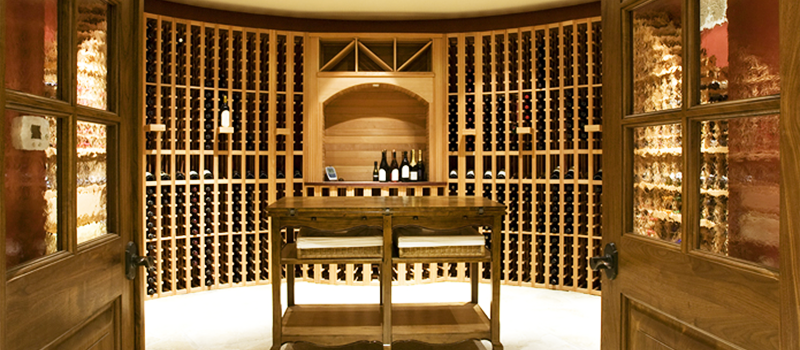 Choosing the right custom made wine cellar door is key to avoiding wine storage problems and unnecessary expenses in the future. The most suitable door for a wine cellar should be one that can prevent temperature fluctuations and wrong humidity. These are the two main factors that can harm your wine. It is therefore important to ensure proper room insulation and install the right wine cooling system to create an ideal environment for your wine to mature properly.
The wine cellar door is the initial impression of that proud display of your endless collector's pursuit. At Master Doors, we offer the highest quality wine cellar doors, fully insulated systems built with the same requirements as elements demand of our exterior product. Our wine cellar doors are primarily done in 1 3/4″ or 2-1/4″ thickness and feature solid wooden jambs and casings. You are welcome to create your own custom wine cellar entry system to make an elegant and beautiful statement that compliments your unique style.
Custom-Made Wine Cellar Doors
At Master Doors you have the option to have unique solid wood wine cellar doors custom-made just for you. Since your door needs to create a tight seal, it should not be made out of ordinary material. You can choose between different exotic wood species such as red and white oak, mahogany, walnut and many more.
Get Your Wine Cellar Doors From A Trusted Company
Open your home and your world to endless possibilities with our exterior pre-hung solid wood door systems, interior doors and wine cellar doors. At Master Doors we are committed to offering the widest variety of high-end durable interior or exterior solid wood doors as well as glass doors and other options. Let us help you keep your vintage collection safe, prevent high energy consumption, and add value to your home.
Contact us today to find out more about our traditional and custom-made wine cellar doors that provide a stunning entryway to your cellar.
Some Frequently Asked Questions:
Can a front door be replaced separately from the frame?
Yes, a front door can be easily replaced without the need to replace the frame. When it comes to main entrance modern door design, there are many options out there that enable homeowners to install a new door easily without ripping the frame out of their doorway. As long as the existing frame is in good condition (not warped or rotten) a new front door can be easily installed. Although, for entryways that are odd-sized or custom, your exterior door installer may need to cut new hinges or install other accessories to ensure your new main entrance door is properly in place.
Design Your New Door
Our talented and creative design team are ready to provide you with samples of your upcoming project.
Get Your Free Quote Now