French doors have consistently been a staple in residential design, exuding an air of sophistication with their very name. However, there's more to these doors than just their elegant title. What lies beneath the surface of this door style, and why might one opt for French doors over a contemporary swinging door, for instance?
At Master Doors, we've explored this topic in-depth to provide you with a comprehensive guide to French doors. By reading our guide, you'll gain insight into French doors, including their history, design, and shape, which will help you choose one that is best suited for your home!
French Doors
In the 17th century, French architects, influenced by Italian designs, introduced large casement windows, positioned side by side, extending to the floor. These windows, known as French windows, aimed to enhance interior lighting and provide easy access to balconies and verandas. Over time, French windows gained popularity in England and eventually reached the United States, where they became known as French doors.
Today, French doors retain the essence of their original French window counterparts, typically featuring two glass panels with distinctive wide top and bottom rails. They often incorporate a divided lite pattern, paying homage to the original French windows with their smaller, separate glass panes separated by muntin bars. During that era, muntin bars served a practical purpose due to the limited availability of large glass panes.
French doors remain closely associated with a traditional aesthetic, serving as an effective means to fill rooms with natural light and providing access to outdoor areas like decks and patios. They are also available for interior use and can create a dramatic design element when connecting large indoor spaces.
Comparing Inswing French Doors with Outswing French Doors
Inswing and outswing French doors both have an increasing amount of popularity in Ontario homes today. We list the characteristics of each below so that you can make the best decision for your home.
Why Choose an Outswing French Door
Opting for an outswing door has its merits. Installing an outswing door makes for a practical choice for tight spaces. Moreover, outswing doors are better at resisting forced entry, enhancing security. It's also worth noting that outswing impact French doors provide superior protection against strong winds and hurricanes and are sometimes mandated by hurricane-related building codes, making them a preferred choice for areas prone to severe weather conditions.
Why Choose an Inswing French Door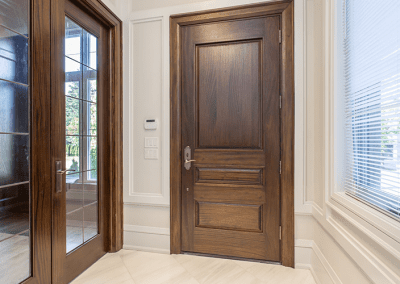 Installing an inswing door offers several compelling advantages as well. It requires less outdoor space, making it ideal for smaller decks or patios where space efficiency is crucial. Additionally, an inswing door allows you to keep it open without the risk of unexpected rainfall damaging a painted or stained wood interior finish, providing peace of mind during inclement weather. An open inswing door is less likely to be blown shut by strong winds and remains operational even in heavy snowfall. Inswing doors are more common and can often be a cost-effective choice. Lastly, they offer a wider range of user-friendly and aesthetically pleasing screen options, enhancing both functionality and visual appeal.
The Size and Shape of French Doors
Although French doors share some common features, there exists a multitude of design options to cater to your unique vision. For an exceptionally charming appearance, consider an arch-top French door. Enhancing the entryway with sidelites on one or both sides or a transom window above can significantly increase the infusion of natural light and create a more expansive interior.
Regarding functionality, you have several choices. French doors can be configured so that one panel opens while the other remains fixed. In such cases, the operating panel can even be hinged to the stationary one at the center of the opening. French doors are also available in a wide range of shapes and sizes, allowing for customization, such as having one door panel of a different size or making a striking statement with a French door measuring 3.04 metres in height and 2.13 metres in width.
Wooden French Doors
The warmth and exquisite charm of natural wood are unparalleled. Typically, French doors feature interior wood, which is often shielded by an exterior layer crafted from extruded aluminum. While all-wood French doors are an option, they are predominantly encountered in historical restoration endeavours. However, they also make for an elegant look in new homes.
Types of Glass for French Doors
Many door installation companies provide identical glass insulation options for French doors. This encompasses various combinations of insulating coatings tailored to enhance comfort and energy efficiency, tailored to your climate. For increased energy efficiency and noise reduction, triple-pane glass is also available.
At Master Doors, a diverse array of decorative and privacy glass choices is offered. All doors can incorporate tempered glass, and in residences prone to hurricanes or requiring enhanced security, a blend of tempered and laminated glass is utilized in French doors.
We can customize the glass on your French door with a wide range of glass patterns, including Acid Etch, Delta Clear, Chinchilla, Delta Sandblast, and so much more. It all depends on your preferences! Just let us know what you like and the style you want to follow, and we can offer you tailored advice and tips.
Contact Master Doors for a Quote on French Doors Today!
At Master Doors, we design and manufacture top-quality French doors, wine cellar doors, and more for our clients in Vaughan, ON. Get started with us today! Contact us for a quote.